Features that make Dedicated Server Hosting Suitable for Large Businesses
|
Dedicated servers have been found to be most suitable for organizations seeking high performance and security for their sensitive and critical applications. It is also an ideal choice for websites drawing huge volume of traffic regularly. In dedicated server hosting, a single client takes an entire individual server for their sole website use without sharing any of the resources with any other customer.  Online portal, gaming servers, e-commerce websites and many more similar companies draw a lot of traffic and visitors and cannot afford to have any downtime. These types of websites are in need of more space, bandwidth and other resources which only a dedicated server can provide.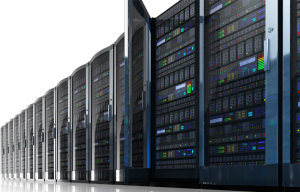 What is a dedicated server?
In dedicated server hosting, an entire powerful server is leased out to an individual client. The client alone gets to benefit from the server resources without giving any other website access to it. The customers have full rights to the entire space, bandwidth, RAM and other resources and have a choice of operating system. Since they have complete control they can customize the hardware and software making it more suitable for their business. Organizations that have outgrown the VPS and shared hosting options will look for a dedicated server platform.
How is it different from the other platforms?
The primary advantage with a dedicated server is its availability to only one customer. The shared hosting platform has several customers sharing a server. VPS hosting too has many customers but each customer gets an isolated environment and draws more benefits than a shared platform. The resources available in a physical server are all enjoyed by only one customer in dedicated server hosting while it is shared amongst the users in the other forms of hosting. Though VPS hosting too has similar benefits as a dedicated server offers, there are issues like security, updates, maintenance that could take more time as there are numerous users in VPS sharing the server with different operating systems and software. The host may have certain difficulties that will not occur in a dedicated server.
Operating system:

Dedicated server hosting is normally available in the two options of Windows and Linux operating systems. Clients get the same benefits in both the operating systems. They just have to consider the language of their website and accordingly choose the operating system. Websites running on .NET technology or using ASP for their web pages and MSSQL database have to go in for the Windows server. Linux is a preferable choice if the languages being used are PHP, MySQL or Perl, Python etc. Windows is compatible with most of the open source applications but Linux does not support any of the Windows technologies. Windows dedicated clients get complete administrative access to the server while the Linux users get root access. Most of the hosts give the option of cPanel or Plesk control panel.
Type of hosting:
It is presumed that organizations buying the dedicated server hosting have their own technically qualified staff to handle the server monitoring and maintenance. They can opt for the self managed hosting. But the hosting companies also offered fully managed services where they take complete responsibility of the technical aspects that include proactive monitoring. The host has its technical team monitoring the server constantly for its performance and detecting any issues at the starting stage before it erupts into a larger and bigger problem.  The clients can get to use the best server hardware from branded and reputed companies. They get more time to utilize for business promotion and cutting down the expense of having a technical team of their own.
Features:
Dedicated server hosting is more reliable. Since there is only one customer hosting on the server chances of its crashing due to overuse of bandwidth or space are very low. This gives it more chances to perform better.  Clients can be assured of continuity and can handle higher volumes of traffic with ease. Customers can create multiple domains on the server.
Many customers opt for dedicated server hosting more for benefits like higher level of security or to get faster access and support system. They may not be utilizing the entire space that is available to them. These clients could become a reseller and lease out the unutilized space to new customers. Since they are allowed to create their own plans, these clients can earn back a decent amount. Another crucial advantage with dedicated server is the enhanced security. Being the lone client accessing the entire server and not sharing the OS or IP address with other clients cut out the risk of any attacks from cyber criminals and controls spammers and hacker movements.
Cost wise dedicated server hosting is the most expensive but it also offers much more facilities and benefits to the clients facilitating better performance and productivity. Startups and small businesses may not find it a feasible platform to take off their business and should start with any of the lower hosting options and upgrade as their business grows.